The perfect present for your outdoor loving Texan is...
a Fly Fishing Gift Certificate or Gift Card! Give the gift of fly fishing to your family and friends who enjoy nature, wildlife and adventure. Send us an email or give us a call. We'll set you up with relaxation and fun!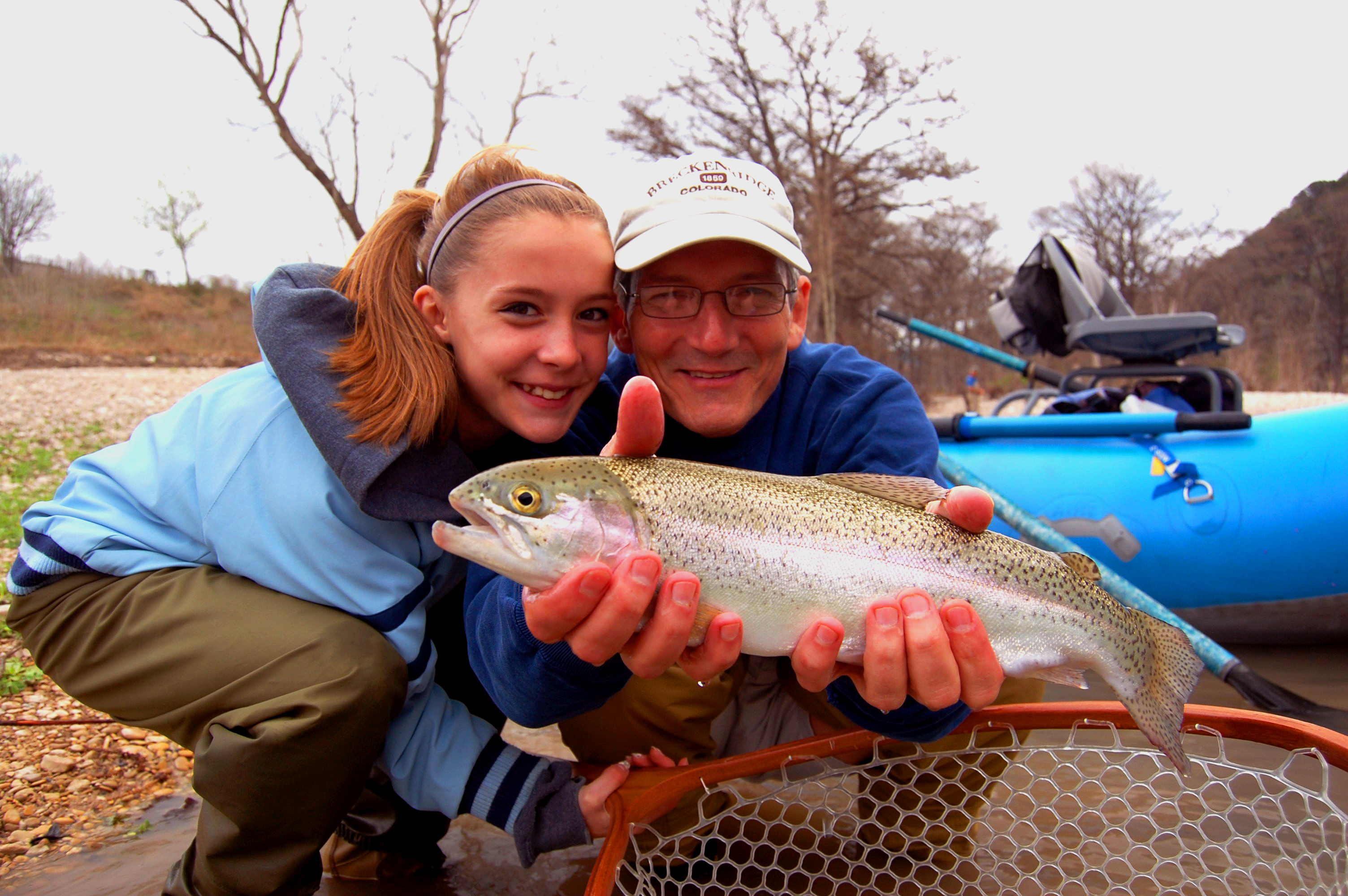 Mckenzie Downs and her Dad Carl with a nice Guadalupe Trout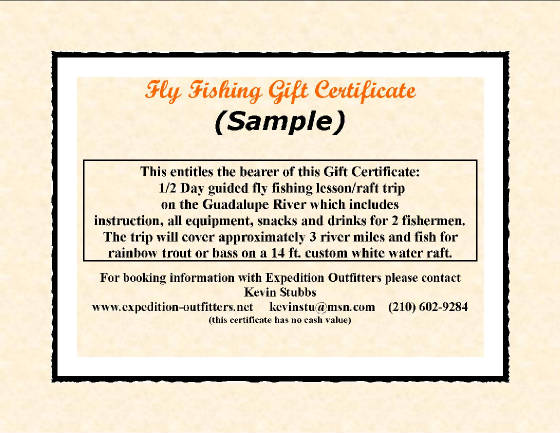 Father's Day Gift Ideas, Birthday Gift Ideas, Christmas Gift Ideas, Valentine's Gift Ideas
The best gift idea is... The gift of fly fishing! Reward the outdoor enthusiasts in your life with an Expedition Outfitters Gift Certificate/Gift Card! They will cherish the green experience and enjoy wildlife in their natural habitat and surroundings. This is a great present for the sportsman or sportswoman in your family!
Fly Fishing is a great sportsman's; or sportswoman's gift idea. Fly Fishing is a great family gift idea too. Fly Fishing lessons are a great gift idea for the outdoors person. Our Fly Fishing Gift Certificates and Gift Cards are great gift ideas for the outdoors person that enjoys nature with a challenging adventure.
Expedition Outfitters' gift certificates and gift cards are the perfect choice for that special someone who enjoys nature and being outdoors.

We have several different packages to choose from,
starting at $150.

Each package includes instruction, equipment, snacks and drinks.

Nature and adventure are not sidelines.
They are the main attraction!

Note: If you are on deadline to find that special gift,
we can email the Gift Certificate or Gift Card and you can print it out
for instant satisfaction.
Our Fly Fishing Lessons and Gift Certificates/Gift Cards are perfect gift ideas for Christmas Gifts, Father's Day Gifts, Birthday Gifts, Anniversary Gifts, Retirement Parties and Gifts, Graduation Gifts, Valentine's Gifts and More! And did we mention our Fly Fishing Gift Certificates/Gift Cards make great Father's Day Gifts? Seriously folks, this can be the best birthday gift in the world! Email or call us today to order your Fly Fishing Gift Certificate or Gift Card. You'll love being immersed in nature! We're keeping it wild, so get out here!
Wow, that's just what I wanted! That's the typical reaction when you give the gift of fly fishing with an Expedition Outfitters Gift Certificate or Gift Card. It's the perfect Christmas Gift idea, Birthday Gift idea, Father's Day gift, Mother's Day gift, Valentine's Gift and more. Do your friends and family enjoy being outdoors? Do they love nature and wildlife?